May 30th, 2023
It's almost that time for school to be out for summer! We know you'll be busy with fun summer activities, and we wanted to join in on the fun! The week of June 26th will be a fun filled spirit week here at Kennell Orthodontics. Patients in all three of our locations will be able to take part in this fun filled week! What an easy and fun way to earn patient rewards points too!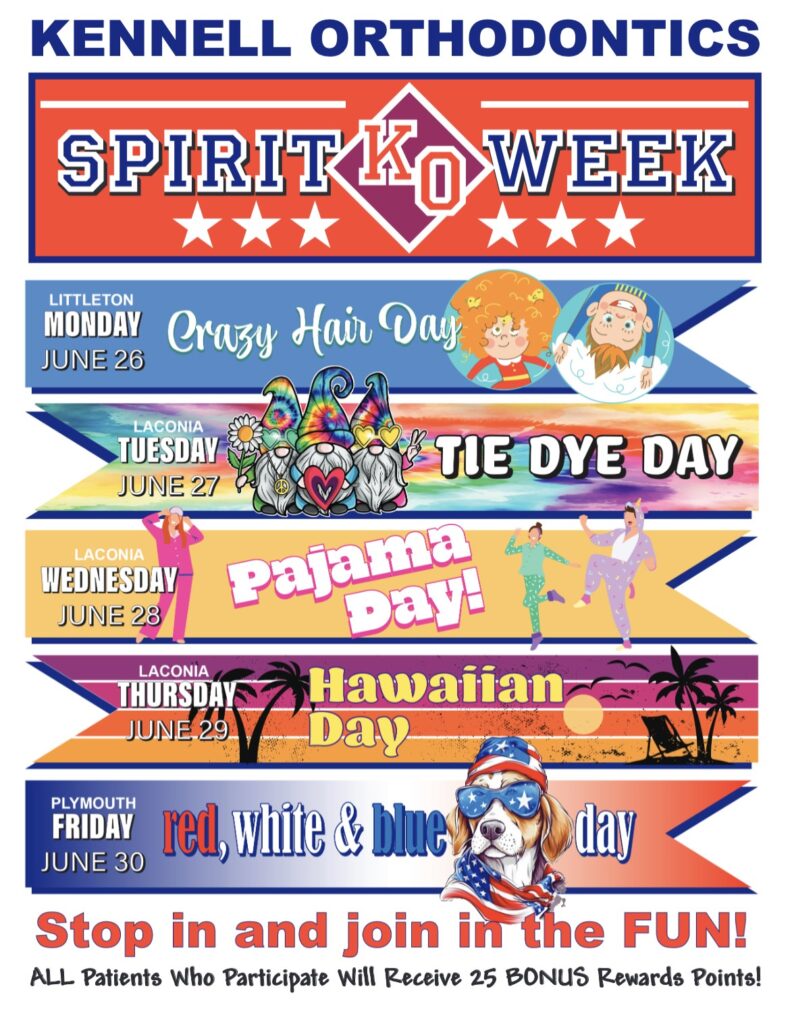 Not only is School out for summer & we have spirit week. June is also National Smile Month!
According to the American Dental Association, a person's smile outranked eyes, hair and body as the most important physical feature, which is why it's important for our team at Kennell Orthodontics to support National Smile Month this June!
Here are a few simple steps you can take to improve your oral health so that you may celebrate National Smile Month for many, many years to come:
Brush at least twice a day with fluoride toothpaste. Here's a helpful video showing you how to brush with your braces on.
Floss every day to clean between your teeth.
Reduce your intake of sugary foods and drinks during your orthodontic treatment with Dr. Kennell.
Visit your dentist regularly (usually every six months apart).
The team at Kennell Orthodontics strives for your satisfaction with every visit and wants you to love your smile!
To schedule an appointment with our office give us a call!
Laconia: (603) 524-7404
Plymouth: (603) 536-7404
Littleton: (603) 444-7403