December 16th, 2016
Spotlight on Pam!

Pam is originally from Franklin, NH & now lives in Effingham, NH with her boyfriend, Michael & their adorable daughter Hope (aka Hopie or Peanut:)

Last April they took their 1st family trip to the Florida Keys to celebrate Hope's First Birthday! Hope got the chance to swim with PAX the Dolphin at the Research Center in Marathon - how fun is that?!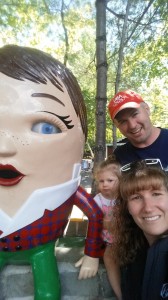 Pam graduated from NHTI as an orthodontic assistant in 1996 & joined the Kennell Orthodontic Team in January 2014. When not at work; Pam, Michael and Hopie spend lots of time enjoying the outdoors - hiking, fishing & swimming. This winter they are going to teach "Peanut" how to ski - if they an get her to stop dancing - her favorite thing to do!
Just Look at that face - what a cutie!