January 30th, 2017

Spotlight on Linda!

Linda is a NH Native who loves spending time with her beautiful family! Linda & her husband, Keith, have been married for 27 years! (What a lucky guy:)

Linda & Keith have 3 children & 2 grandchildren - soon to be 3! Her daughter Olivia is expecting another baby anytime!
Olivia & her husband, Dalin, met & married at BYU. They have two children named Tenley & Declan - they are excited to welcome a new bother or sister! Linda loves traveling to Utah to snuggle with them!
Linda's oldest son, Payson, is 24 & studies coding at School "42" in California. Her youngest son, Donovan, is 17 - a junior in high school who loves skiing, fishing & hunting.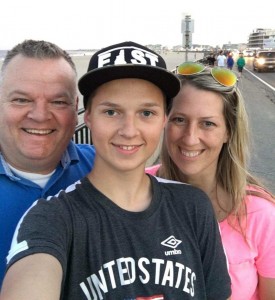 Linda's hobbies include playing tennis, sewing quilts for Tenley & Declan, searching for seaglass at the ocean and, of course, hanging out on Lake Winnipesaukee!  She enjoys traveling to Utah & Florida to visit family & soak up the sunshine!
In 1986 Linda graduated from NHTI & has been with Dr. Kennell part time for over TEN amazing years!