October 2nd, 2019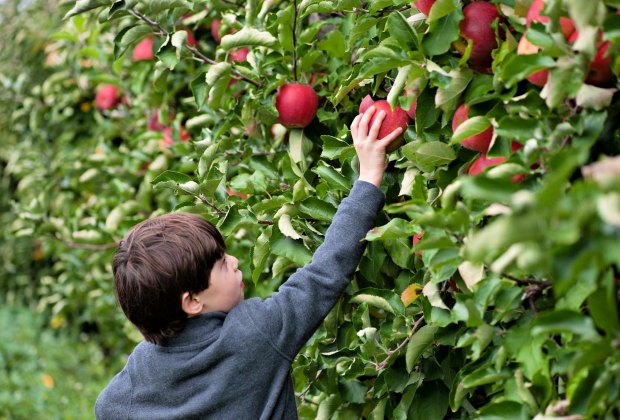 It's fall which also means it is apple picking season!
The problem is biting into an apple with braces is a no-no, it is best to cute it up into smaller pieces …or better yet, find some great braces friendly recipes to cook those apples into!
We have included some great recipes to try out!  Let us know your favorite!
Warm Apple Pie Smoothie
1 apple, cored and cut into chunks (peeled if you don't have a high-powered blender)
½ cup / 120 ml water (for a creamier smoothie you can use yogurt)
¼ teaspoon vanilla extract
1 tablespoon maple syrup (or raw organic honey)
¼ teaspoon ground cinnamon
A pinch of nutmeg
A pinch of allspice
1 scoop protein powder (optional)
Combine apple, water, vanilla, maple syrup and spices in a blender. Blend until smooth. Pour into a mug and microwave on high for about 2 minutes.
Sprinkle with cinnamon, and if you're feeling particularly daring, add a bit of whipped cream on top. Serve!
Apple Peanut Butter Muffins
2 cups all-purpose flour
1 cup sugar, divided
2 teaspoons baking powder
2 1/2 teaspoons cinnamon, divided
1/2 teaspoon salt
1 1/2 cups shredded apples (about 2 medium)
1 cup low fat buttermilk
1/2 cup creamy peanut butter
1/4 cup coconut or canola oil
1 egg, slightly beaten
1 teaspoon vanilla
Preheat oven to 400 degrees F.; line a 12 cup muffin tin with cupcake liners.
In a large bowl, whisk together the flour, 3/4 cup sugar, baking powder, 2 teaspoons cinnamon, and salt. In another bowl, stir together the shredded apples, buttermilk, peanut butter, oil, egg, and vanilla. Combine the wet ingredients with the dry, stirring until just mixed, being careful to not over beat. Spoon the batter into the muffin tins. Combine the remaining sugar and cinnamon and sprinkle evenly over the muffin tops.
Bake for 18-20 minutes, or until the tops spring back when lightly touched. Cool on a wire rack.
Crescent Roll Apple Pies
1 Apple sliced (tart)
3 heaping tbsp. brown sugar
2 tbsp. cinnamon
1 tbsp. melted butter
1 Pkg. of Crescent Rolls
Preheat Oven to 350 degrees.
Roll out the dough on a cooking surface, brush with butter and sprinkle brown sugar and cinnamon.
Roll up 2 or 3 apple slice in the dough forming a crescent, place on an ungreased cookie sheet.
Brush each crescent roll with remaining melted butter and top with cinnamon.
Bake for 12-15 mins until golden brown.
Remove from oven, serve and enjoy!