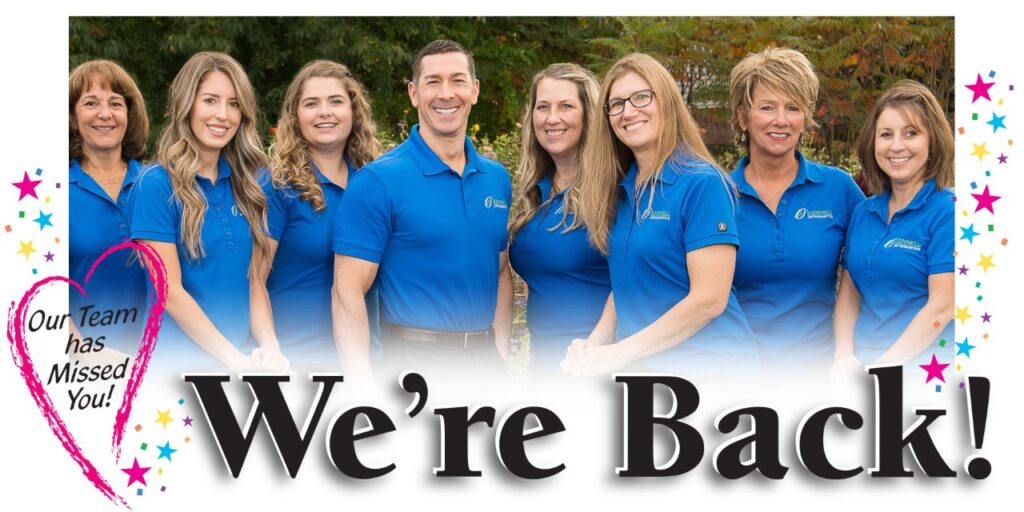 We are excited to resume normal operations on May 18, 2020!
We can't wait to see all of our patients once again!  These past few weeks have been quite challenging for ALL of us, but we'll make it through and be stronger because if it.  All of our patients' appointments are currently being confirmed, so rest assured if you have not been contacted, you will be.
While the office has been closed, we've been working hard behind the scenes to ensure we can reopen safely and efficiently.  We have always taken pride in the cleanliness of our office and our strict adherence to infection control standards, and we will continue to provide comfortable, safe, and effective orthodontic care as we resume our regular business hours.
Kennell Orthodontics follows the infection control recommendations made by the American Dental Association (ADA), the U.S. Centers for Disease Control and Prevention (CDC) and the Occupational Safety and Health Administration (OSHA.)  We stay up to date on all new rulings and guidance issued to ensure we're adhering to the most current information and recommendations.
However, as you might imagine, we are going to be taking additional safety measures to help protect both our patients and our team.
Here are a few changes we have implemented in the office:
We will be calling patients the day before the appointment to confirm the appointment time and ask a few screening questions.  You'll be asked these same questions again when you enter the office.
*** Please RE-SCHEDULE your appointment if you feel sick, have a fever, or have been in contact with someone who has been sick in the last 14 days. ***
We ask that everyone entering the building please wear a mask or other acceptable facial covering.
Please do your best to arrive at your scheduled appointment time – not too early and [please!] not late.
If you arrive early, we ask that you wait outside the office until your scheduled appointment time.
If you are more than 10 minutes late, please call the office to let us know so that we can determine the best time to see you.
The Sign-In screen [and finger scanner] have been temporarily disabled to minimize touching/contamination. Please let the Front Desk Team know when you arrive so they can check you in.
Upon checking-in, a team member will greet you in order to perform a Wellness Screening consisting of a brief Questionnaire, Consent Form, Temperature Check (non-contact), and Hand Sanitizer.
There will also be hand sanitizer available in the reception area and other places around the office for you to use as needed.
Our Team will be wearing enhanced Personal Protective Equipment (PPE) including clinical jackets, face shields, enhanced face masks, and safety glasses.  This may vary depending on the risk level of the procedure(s) we are performing.
We have adjusted our schedule as to allow more time between patients in an effort to adhere to social distancing by reducing the number of people in the reception area at one time. This may result in fewer scheduling options for your appointment.
Although sitting in the waiting area will most likely notbe necessary, please do your best to allow ample social distance from others that may also be sitting in the waiting area.
We ask that only 1 adult accompany their child into the office for their scheduled appointment.
Teen and adult patients should come alone, unless a parent/spouse/etc.. has a question for Dr. Kennell about the patient's treatment.  We ask that everyone else please wait comfortably outside or in your vehicle.
Sadly, the X-Box games and Photo Booth will be off-limits until further notice.
We are no longer offering magazines or other reading materials in the reception area, these items are difficult to keep clean and disinfected.
For now, our Toothbrushing Station is a Handwashing Station.  Please remember to brush your teeth (and floss!) at home, before coming to your appointment.  If you need to brush at the office, we will provide you with a pre-pasted disposable toothbrush to use in the restroom.
Let's keep all office talk positive and have fun together - safely!
We're coming up with cool ways to say hello with "virtual hugs" and "virtual handshakes"!
We will still have fun prizes, contests and giveaways! - Follow us on Facebook and Instagram!
If you have any questions about your child's treatment progress or the steps we're taking to keep you safe, we're happy to answer them!  You can email us at info@kennellortho.com or give us a call (603) 524-7404.
Thank you for sticking with us through these uncertain times!  You are family to us, and we appreciate you so much.  We can't wait to see you all in the office again soon!
Keep smiling and stay safe,
Dr. Kennell and The Kennell Ortho Team