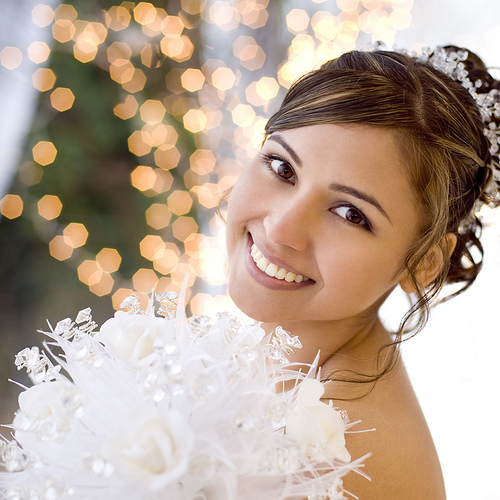 You're engaged, you're planning your wedding, and you couldn't be happier-except for one thing. Your smile! Maybe your teeth are a little crooked, or you have a gap-but you're an adult now and you don't want braces! Rest easy-as long as your teeth are only moderately crooked and you have three or four months till the big day, you can see drastic improvement using clear plastic braces. While most people think only Invisalign® makes such a system, you actually have several options to achieving straight teeth and the smile you always wanted!
If you're not familiar with the technology, Dr. Alan Kennell can (in appropriate cases) use clear plastic trays to move your teeth, rather than the traditional wires and brackets. Clear braces are less painful and almost invisible-unless someone is very close to you, they won't even notice you are wearing them! You take the trays out to eat and brush your teeth, and while your teeth will feel sore and may even throb periodically for the first few days, after that you'll hardly notice when the trays are in. (While wearing the trays you won't be able to drink anything but water, which will also help with that wedding day diet!)
If you have at least a year until you walk down the aisle, you can go with Invisalign®. This is used with more complicated cases and you will get a new tray every two to four weeks (if you wear them correctly!). However, if you have less time, you can choose Simpli5®, Red White & Blue®, or RW II®. With the latter three options, your orthodontist takes a mold of your teeth and sends it to a laboratory. There, a technician makes your trays based on incremental movements of your teeth.   Red White & Blue® treat only one or the other, not both arches. These are for treatment of teeth with only very mild crowding or spacing issues. Red White and Blue® is a series of three aligners worn for six to twelve weeks, while RWII® is a series of two aligners worn for two to eight weeks.
Call Dr. Kennell today to make your appointment for beautiful, straight teeth for your wedding and Smile down the Aisle!