Spotlight on Tara!
Meet the newest edition to the Kennell Orthodontics Team - Tara!
Tara

is a New Hampshire native, who recently moved back home from North Carolina to be closer to her

LARGE

family! Along with her adorable three year old daughter

AVERY

, (She's the one with the yellow flower in her hair  - Adorable!), Tara has

FOUR

brothers and

THREE

sisters!
(That's a lot of babysitters:)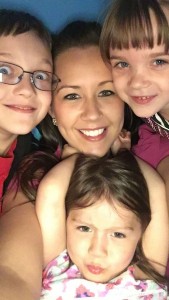 Tara has lots of nieces and nephews.
Avery loves being close to her cousins and being goofy with them!
Avery is learning to ski this year and Tara likes to pamper her with occasional Mani & Pedis to celebrate her bravery:)

Tara and Avery enjoy 4- wheeling, fishing, hiking, sledding, reading books, painting, cooking and drinking hot cocoa together!
Tara was introduced to Kennell Orthodontics at a routine dental appointment for her daughter at Dr. Missy Kennell's office, and the rest is history! Tara is currently taking classes to further her education in orthodontics.
Make sure to introduce yourself to Tara at your next appointment!