We are excited to introduce the next Kennell Orthodontics contest!
A scavenger hunt to win tickets to Cirque du Soleil - OVO!
TO ENTER: Answer all the questions on the Kennell Orthodontics Entry Form. Forms can be picked up at our office or downloaded here.  All entries must be returned to our office (or emailed to contests@kennellortho.com) by AUGUST 22, 2016.
Only entries with ALL answers correct will be entered into the contest. You must be a patient to enter - so if you're not yet - make your appointment today to see Dr. Kennell!
Winner will receive a 4-pack of show tickets to the 8/27/16 7:30pm Show AND a pre-show dinner with the Kennell Orthodontics crew! GOOD LUCK!!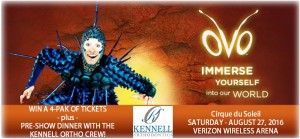 OVO is a story about insects working, playing, fighting and looking for love in a non-stop riot of energy in motion. Their home is filled with biodiversity, beauty, action and moments of quiet emotion. The awestruck insects are intensely curious when a mysterious egg appears, representing the enigma and cycles of their lives.