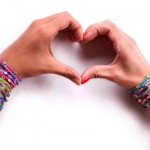 Valentine's Day is approaching quickly, are you ready? Here are some fun facts and a couple of braces-friendly recipes for your special Valentine.


Did you know....?
More than 36 million heart-shaped boxes of chocolate are sold for Valentine's Day each year.

On average, men shell out $130 each on candy, cards, jewelry, flowers and dates. That's more than double what women commit to spending.

About 1 billion Valentine's Day cards are exchanged in US each year. That's the largest seasonal card-sending occasion of the year, next to Christmas.

Worldwide, over 50 million roses are given for Valentine's Day each year.
Valentine's is a holiday to celebrate those you care about and special treats.
Here are some braces-friendly recipes for the special person in your life.

Chocolate Covered Strawberry Shake
Ingredients:
2/3 cup milk
2/3 cup strawberry ice cream
2/3 cup fresh strawberries, hulled and stems removed
2 Tablespoons hot fudge ice cream topping, warmed
Whipped cream and a cherry for garnish
Directions:
In a blender, mix up the ice cream and strawberries until smooth
Pour the hot fudge topping into a glass
Fill glass with shake mixture
Top with whipped cream and a cherry
Heart Shaped Egg in a Basket
Ingredients:
1 piece of bread
1 egg, separated
1 Tablespoon margarine or butter
Directions:
Butter one side of the bread. Separate the egg white from the yolk. Place the bread buttered side down in a frying pan on medium heat. Cook until golden brown, then remove.
Using a knife or even a cookie-cutter, cut out a heart shape in the bread. Lower the heat a bit and then return the bread to the pan.
Add just enough of the egg white to fill the empty heart-shaped center. Next, carefully place the egg yolk in the center and allow to cook.
When the egg is fully cooked, remove from pan and enjoy!