We know September is a busy month with school and fall sports, so today's blog is to keep you up to speed with our super fun office! So much to smile about!!!
Last weekend our office participated in WOW Fest 2013! Check out our Facebook page for more photos! For those of you that are not familiar, The WOW Trail is a multi-use, non-motorized recreational pathway in the City of Laconia.  The proposed pathway is just over 9 miles long, stretching the length of the City to the Meredith and Belmont town lines.  The WOW Trail will be constructed adjacent to the railroad tracks used by the Winnipesaukee Scenic Railroad. The trail will be 10 feet wide and paved.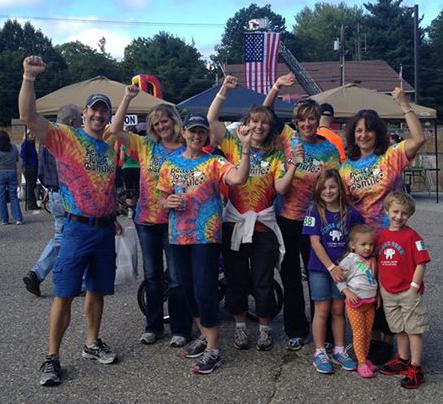 One of our favorite holidays is approaching! Halloween is right around the corner and this peeping Tom just won't leave us alone! Maybe you'll see him at your next appointment!
And don't forget about our contests!!!
Refer-A-Friend 2013 To show our appreciation, we kicked off a new patient referral program for 2013! If Kennell Ortho begins a treatment plan with a new patient (child or adult) from your qualified referral, you will receive a $50 VISA cash card and be entered to win the 2013 GRAND PRIZE DRAWING.The lucky grand prize winner will select ONE (1) Winter or Summer New England Get-A-Way of their choice to be scheduled in 2014!
Music Match Trivia Contest! Enter our music trivia contest and you could be the lucky winner a NEW iPod Nano. Click here for more details!
We've got so much going on, what's not to Smile about!!!